Blogs
Over at The Guardian is a sobering piece on how publishers use academics to make millions from academic books that nobody can or will buy.
Nijay Gupta alerted us to some new commentaries of note for 2015, both recently published as well as forthcoming.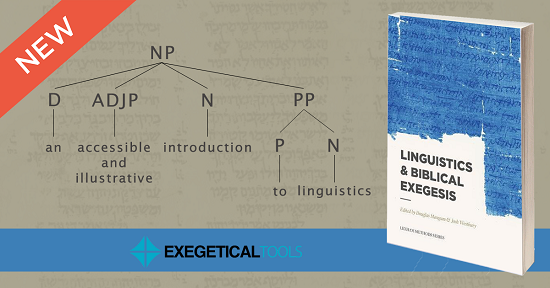 Larry Hurtado made some important comments on the importance of taking into account the linguistic situation of first-century Judea. He also (characteristically on his blog) followed up with a slight edge of annoyance at all the commenters who completely missed his point!
Ben Witherington continued his series review of N. T. Wright's Paul and His Recent Interpreters with Parts 5, 6, 7, 8, 9, and 10.
We reviewed Biblical Greek Language and Linguistics: Open Questions in Current Research (Porter & Carson eds.) and Jesus, Paul, and the People of God: A Theological Dialogue with N. T. Wright (Hays & Perrin eds.)
Book Deals (Want more book deals? Sign up for our newsletter!)
(New American Commentary Studies in Bible and Theology)
Believer's Baptism, by Tom Schreiner, $3.99
Sermon On The Mount: Restoring Christ's Message to the Modern Church, by Charles L Quarles, $3.99
Lukan Authorship of Hebrews, by David Allen, $3.99
The Messianic Hope: Is the Old Testament Really Messianic? , by Michael Rydelnik, $3.99
The Ten Commandments: Ethics for the Twenty-First Century, by Mark Rooker, $3.99
Enthroned On Our Praise , by Timothy M. Pierce, $3.99
Future Israel: Why Christian Anti-Judaism Must Be Challenged, by Barry Horner, $3.99
The End of the Law by Jason Meyer, $3.99
The Lord's Supper, by Tom Schreiner and Matthew Crawford, $3.99
That You May Know: Assurance of Salvation in 1 John, by Christopher Bass, $3.99
10 volumes NAC Studies in Bible and Theology are on sale from @bhacademic. Grab them all!
Click To Tweet
Other Books
Come Let Us Reason, by Paul Copan and William Lane Craig, $2.99
Tough Minded Christianity by William Dembski, $2.99
Contending with Christianity's Critics, by Paul Copan and William Lane Craig, $2.99
Women Leading Women: The Biblical Model for the Church, by Jaye Martin and Terri Stovall, $0.99
Moral Apologetics for Contemporary Christians, by Mark Coppenger, $2.99
Truth Considered and Applied, by Stuart Kelly, $2.99
Defending the Faith, Engaging the Culture, by Bruce Little, $2.99
New Books
Behold! My Servant: An Exegetical and Theological Study of the Identity and Role of the Servant in Isaiah 42:1-9 by Stephane Beaulieu (Georgias Press)
Ruth (Apollos Old Testament Commentary) by L. Daniel Hawk (IVP Academic)
Identity and Idolatry: The Image of God and Its Inversion (New Studies in Biblical Theology) by Richard Lints (IVP Academic)
Jesus and Brian: Exploring the Historical Jesus and his Times via Monty Python's Life of Brian ed. Joan E. Taylor (T&T Clark)