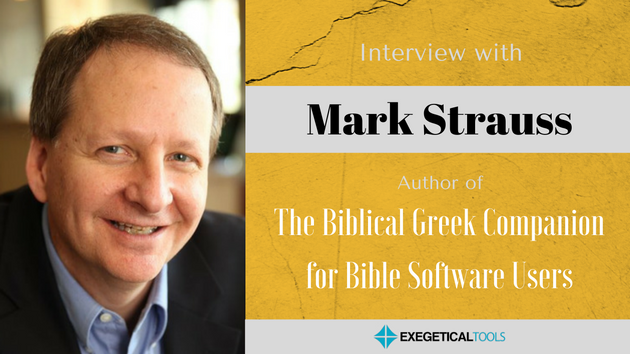 Dr. Mark Strauss is a prolific NT scholar who happens to use Bible software often. We recently wrote about his new book, The Biblical Greek Companion for Bible Software Users, our Book of the Week. It is designed to help those with rusty or non-existent Greek to get the most out of the language tools in their Bible software. We wanted to ask him more about warnings he might give us, tips for using Bible software, and future works we can expect to see from him.
Exegetical Tools
This book is probably a bit overdue, given the prominence of Bible software nowadays. What gave you the idea for it, and how do you imagine it serving the church?
Dr. Mark Strauss
I wish I could claim credit for the idea, but it came from Michael Williams at Calvin College. He submitted a proposal to Zondervan to do a biblical Hebrew software guide. They enthusiastically agreed and also agreed with him that a Greek companion volume would be ideal. Michael then approached me.
Exegetical Tools
You obviously care about the role of Bible software for students of the Bible today. What role does it play in your own research, and what software do you prefer for various tasks? (Or do you only use one program for everything?)
Strauss
Yes, I use Bible software on a daily basis, both for research and for ministry. I use both Accordance and Logos regularly. I particularly like the interface of Accordance and it's search capabilities, but the large library available with Logos is unbeatable. There have been a number of occasions where I've needed a book for research. Rather than going to the library I simply order it online from Logos. I can download it immediately and it integrates fully with all my other resources. Really remarkable.
Exegetical Tools
What risks do you see for those relying on Bible software to do the majority of their Bible study? How can we mitigate those risks?
Strauss
The danger is really the same as that of print resources. Just as commentaries should not replace your study the text, but rather enrich it, so the goal of Bible software should be to provide resources to determine the meaning of the text. The great benefit of software is the speed and comprehensiveness you can achieve. To scroll over a Greek sentence and immediately link it to high-level lexicons, grammatical aids, and multiple commentaries is a great deal faster than going to the bookshelf and taking down these books. This speed factor becomes exponentially more efficient when doing complex searches of terms and grammatical constructions.
Exegetical Tools
Do you have any warnings for those who might overuse your book? That is, for those who might read too much into the function of a category and build a huge sermon point on something that might be an 'exegetical fallacy'?
Strauss
The book is certainly written at an introductory level and there are more advanced resources recommended in the appendix. I also tried to put a good number of grammatical and hermeneutical cautions in the exegetical insights sections of the book. I think it's as important to teach students about linguistics and how language functions as it is to actually teach them Greek. I tell my students constantly that a knowledge of Greek doesn't give them the answers; it just tells you what questions to ask. As always when reading scripture, it is the context that gives you the answers.
Exegetical Tools
Your CV lists your published works so far. What can we look forward to seeing you produce in the next 5-10 years?
Strauss
I have a critical introduction to Mark's in the works as well as a text on hermeneutics. I'd also like to do a more comprehensive work on Bible Translation, which is a passion of mine. A second edition of my Gospels textbook is also in the works.
Exegetical Tools
Thanks, Dr. Strauss, for taking the time to help us better understand the role of Bible software in our research. Blessings on your future work!
Read more about Dr. Strauss' book at our post here, or buy it on Amazon here.