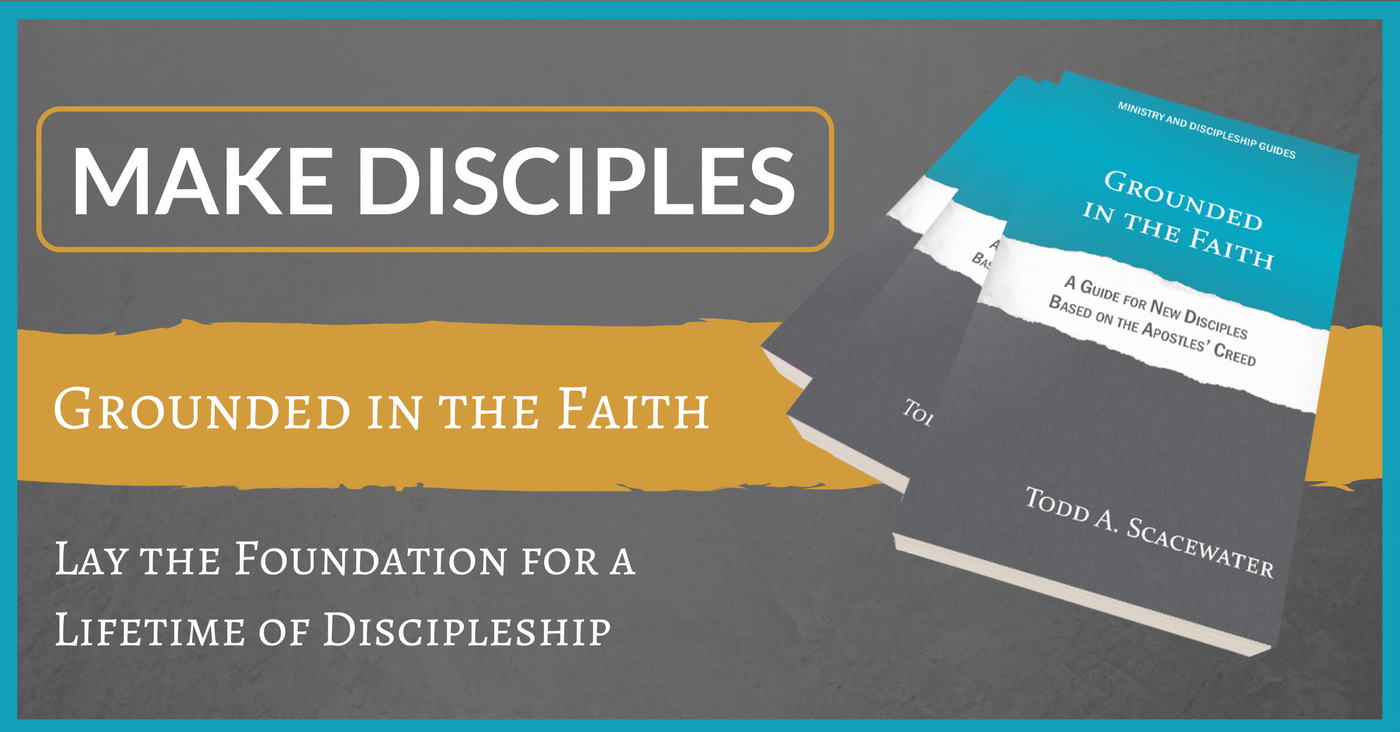 Grounded in the Faith: A Guide for New Disciples Based on the Apostles' Creed (Fontes Press, 2017), 55pp., $6.99 paperback.
Fontes Press (an imprint of Exegetical Tools) has released its first work, a concise discipleship guide based on the Apostles' Creed. Grounded in the Faith is a brief 9,000 words–a small 55 pages in 5×8 format–small enough to ensure no one is intimidated.
Its Purpose
I wrote this guide because I believe Jesus called us to make disciples, not just converts. I too often see people come forward during an invitation, "get saved," and go back to their normal lives. In the front door, out the back.
This guide provides leaders with an immediate next step, either to prepare for baptism (my preference) or immediately after baptism. You ask if the new believer can meet with you for a certain number of weeks, once a week, to go through these foundational Christian beliefs to ensure they understand the new faith they have found.
Alternatively (also my preference), you get an elder or other leader in your church to take the new believer through the study. Each section is only 2-3 small pages with discussion questions at the end. If you're able to do it in your home, you can spend 20 minutes in the guide and then the rest of the time enjoying your coffee and getting to know one another. Doing so would form a lasting spiritual mentorship for the new believer and would also alleviate some pastor burden from the main pastor(s)/elder(s).
Does It Work?
It's a new book, but I've been using it in my church and I'm about to start the study with a few new believers at our church. I'll tell you one story. A young college student came to our church out of the blue looking for friendship and church community. He started helping with the youth but I could tell he wasn't getting the relationships he wanted.
I asked if he would go through this study with me. He has been a Christian a long time but didn't seem too sure of his faith. We met on Wednesday nights right before youth for about 7 weeks, and by the third week he was coming over for dinner. He did so well playing with my sons that we started having him over 1-2 times a week, adopting him in our family. Now he mows my lawn, my wife cuts his hair, we feed him quality cuisine, and he helps with our kids.
I never would have developed this sort of relationship with this college student if I didn't have a reason for us to meet together one on one for multiple weeks in a row. Grounded in the Faith provided that opportunity for me to lay the foundation for a lifetime of discipleship.
Download a Sample
Curious what it looks like? Here's a sample with the introduction to the creed (which you can skip if you'd like, it's more for leaders than for the new believer) and the first two sections focusing on "I believe" and "God the Father."
How to Buy It
If you want an individual copy or two, you can find it on Amazon.
If you're buying in bulk, you can buy on Amazon or buy it directly from the printer, which avoids Amazon as the middle man and doubles our commission. If you believe in what Exegetical Tools and Fontes are up to, help us out by buying direct.
A kindle version will be available shortly as well.