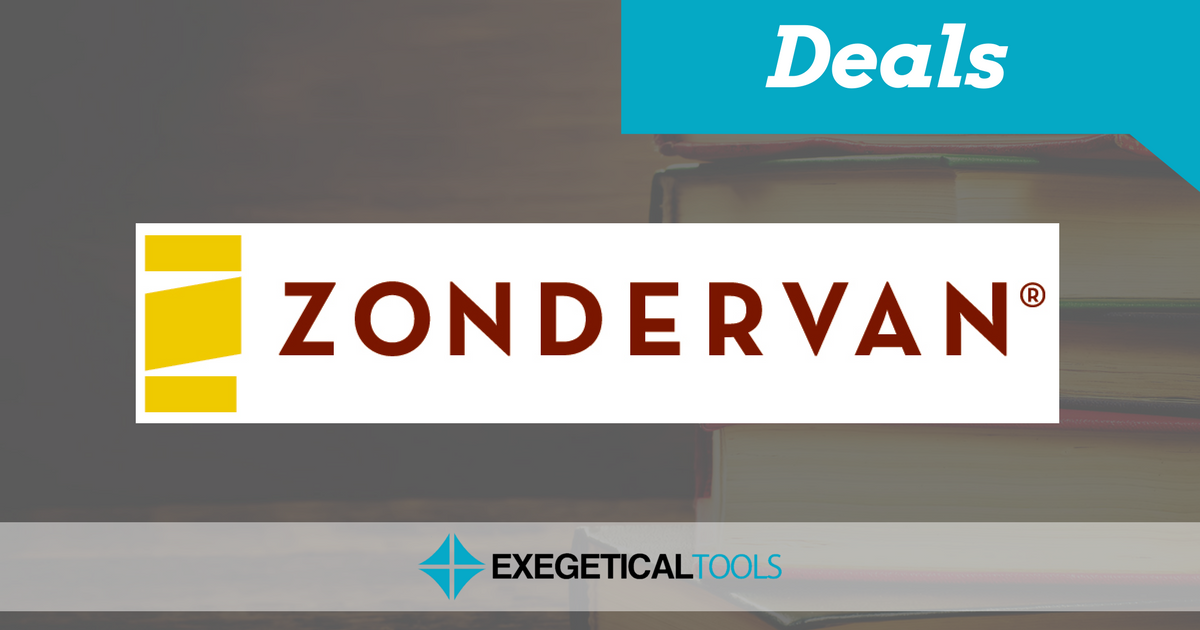 Tons of deals here, including the 5 solas series which are all worth owning, a ton of practical ministry and counseling books, and books worth owning by the likes of Michael Bird, DA Carson, Tim Keller, Michael Horton, Justin Holcomb, Kevin Vanhoozer, and more.
While browsing, feel free to listen to our latest podcast on three questions to ask when considering possible historical backgrounds to biblical texts.
The 5 Solas Series are all on sale for $4.99 (get all if you can!)
God's Word Alone (Barrett)
God's Grace Alone (Trueman)
Christ Alone (Wellum)
God's Glory Alone (Vandrunen)
Faith Alone (Schreiner)
Practical Ministry Guides (a good series, $1.99 each)
Overseeing God's People
Pray for the Flock
Gather God's People
Comfort the Grieving
Visit the Sick
Conduct Gospel-Centered Funerals
Prepare Them to Shepherd
Also by Brian Croft, The Pastor's Family and also The Pastor's Ministry
For Calvinism, by Michael Horton ($1.99) – I notice Against Calvinism isn't on sale. Conspiracy?!
Three volumes in the Fresh Perspectives on Women in Ministry series ($1.99 each)
Hearing Her Voice, Revised Edition: A Case for Women Giving Sermons, by John Dickson
Bourgeois Babes, Bossy Wives, and Bobby Haircuts: A Case for Gender Equality in Ministry, by Michael F. Bird
Jesus, Justice, and Gender Roles: A Case for Gender Roles in Ministry, by Kathy Keller
Martin Luther Books
Meet Martin Luther, $2.99
Here I Walk: A Thousand Miles on Foot to Rome with Luther, $2.99
Miscellaneous
From Dependence to Dignity: How to Alleviate Poverty through Church-Centered Microfinance, Fikkert and Mask, $3.99
Raised? Finding Jesus by Doubting the Resurrection, by Jonathan Dodson and Brad Watson, $1.99
The Next Story, by Tim Challies, $2.99
Know the Heretics, by Justin S. Holcomb, $2.99
Serving a Movement: Doing Balanced, Gospel-Centered Ministry in Your City, by Tim Keller, $2.99 (also in the same series, Shaped by the Gospel and Loving the City, both for $2.99).
Core Christianity, by Michael Horton, $2.99
People to Be Loved: Why Homosexuality is Not Just an Issue, by Preston Sprinkle, $2.99
Awakening the Evangelical Mind, by Owen Strachan, $2.99
The Hardest Sermons You'll Ever Have to Preach, by Bryan Chappell, $3.99
Telling the Truth: Evangelizing Postmoderns, ed. Carson, $3.99
Worship by the Book, ed. Carson, $3.99
Their Rock is Not Like Our Rock: A Theology of Religions, Daniel Strange, $3.99
The Crucified King, Jeremy Treat, $3.99
How God Became Jesus, by Bird, Evans, Gathercole, Hill, Tilling, $3.99
The Gagging of God, DA Carson, $4.99
Is There a Meaning in This Text? by Vanhoozer, $4.99
Wayne Grudem's Politics According to the Bible, $4.99
What Christians Ought to Believe, Michael Bird, $4.99
Center Church, Tim Keller, $7.99
Evangelical Theology, Michael Bird, $7.99
Historical Theology, Gregg Allison, $7.99
Counseling
A Theology of Biblical Counseling, Heath Lambert, $6.99
Biblical Counseling and the Church, Kellemen and Carson, $6.99
Scripture and Counseling, Kellemen and Forrey, $6.99
Gospel-Centered Counseling, Kellemen, $4.99
Pilgrim Theology, Michael Horton, $6.99