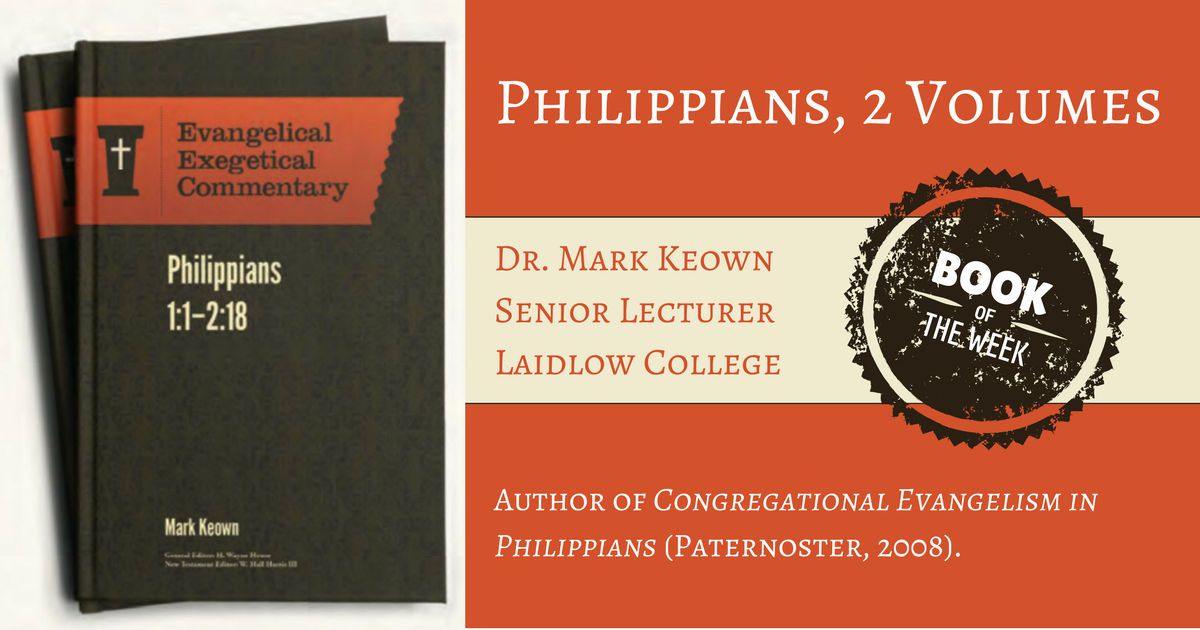 Commentaries are in no short supply today, so it's always a challenge to distinguish a new one from the rest. If I had to use one word to distinguish this new commentary on Philippians, I would say it is "thorough," which itself carries its positives and negatives.
Mark Keown's work falls into two volumes, for a total of approximately 1,000 pages of body text (plus more in indices). The introduction is 83 pages, which is lengthy but not abnormal for a commentary. It's a useful introduction as well. If one wanted to study Philippians, after reading (e.g.) a chapter in an introduction such as Carson & Moo or Koestenberger et al. and the Philippians article in DPL, the introduction in Keown's commentary would be a perfect next source to give you a more thorough acquaintance with the issues.
The commentary itself is very committed to examining the text. Keown tends to explain most Greek words with a brief word study and also examines all the possible syntactical options for words and phrases. Such coverage is welcomed for those who really care about nailing down the grammar before moving onto interpretation.
To give an example of how thorough this detail is, consider part of Phil 2:12, Ὥστε, ἀγαπητοί μου, καθὼς πάντοτε ὑπηκούσατε, μὴ ὡς ἐν τῇ παρουσίᾳ μου μόνον ἀλλὰ νῦν πολλῷ μᾶλλον ἐν τῇ ἀπουσίᾳ μου. Keown takes five pages just to explain the grammar and semantics, and includes a word study for ἀγαπητοί, ὑπηκούσατε, παρουσίᾳ, and ἀπουσίᾳ. Those who know less Greek will really appreciate the time Keown spends in the grammar and semantics of words. The downside is, of course, that those who already have a good understanding of words such as ὑπακούω will need to skim through much of the commentary past these word studies.
Aside from the language itself, Keown has obviously spent a chunk of his life in the secondary literature on this epistle. His breadth of research is truly impressive, and it seems few sources on Philippians have escaped his footnotes. Once again, this can be incredibly helpful, such as when wanting to get a breakdown of scholarship on the "Christ hymn" (Phil 2:6-11, which he covers in 100 pages (!) on pp. 351-448). The downside is that the history of interpretation can sometimes detract from a focus on the text itself. Obviously both are important, and often one can decide what is more important when choosing a commentary to buy. In this case, you can get both worlds in one commentary and choose to skip over the portions that are less relevant to your needs, so the thoroughness is probably more helpful than not!
Other helpful features of this commentary include selected bibliographies for each section, which is always useful for those researching a passage and looking for further sources. The author uses verbal aspect terminology when discussing verb forms, but in the various sections I read I did not find anything fanciful about his use of it (which is a positive).
This volume is part of the Evangelical Exegetical Commentary series, which is quickly becoming a favorite of many pastors. They tend to be more comprehensive and have a nice hardback format with quality binding and nice typography (some of us care about these things deeply!). For pastors, my only advice for using this commentary for preaching would be to briefly skim the sections on history of interpretation and academic issues and get quickly to the exegesis portions. If there are two paragraphs on a Greek word you're already quite familiar with, skim down past it. Or even more helpful would be to make sure you've done your own exegesis and bring all your questions to the commentary and only read on the portions of the passage that you need help with. When you do this, you'll find Keown's thoroughness to be very welcome, and you'll benefit deeply from the depth of research and his careful analysis of the Greek text itself.
Overall, I don't want the length of this commentary to throw anyone off from owning it because I think the depth of research is much more of a positive than a negative. But, I have tried to give guidance on how to make the most of this commentary for various purposes without reading every bit of it, because students and pastors need to make the best use of their time, for the days are evil (Eph 5:16)! When used wisely, Keown's commentary should now rank among the most helpful for students and pastors, and many scholars will appreciate the deep engagement with secondary literature as well.
Preview or buy it now: volume 1 (Phil 1:1-2:18) and volume 2 (Phil 2:19-4:23).