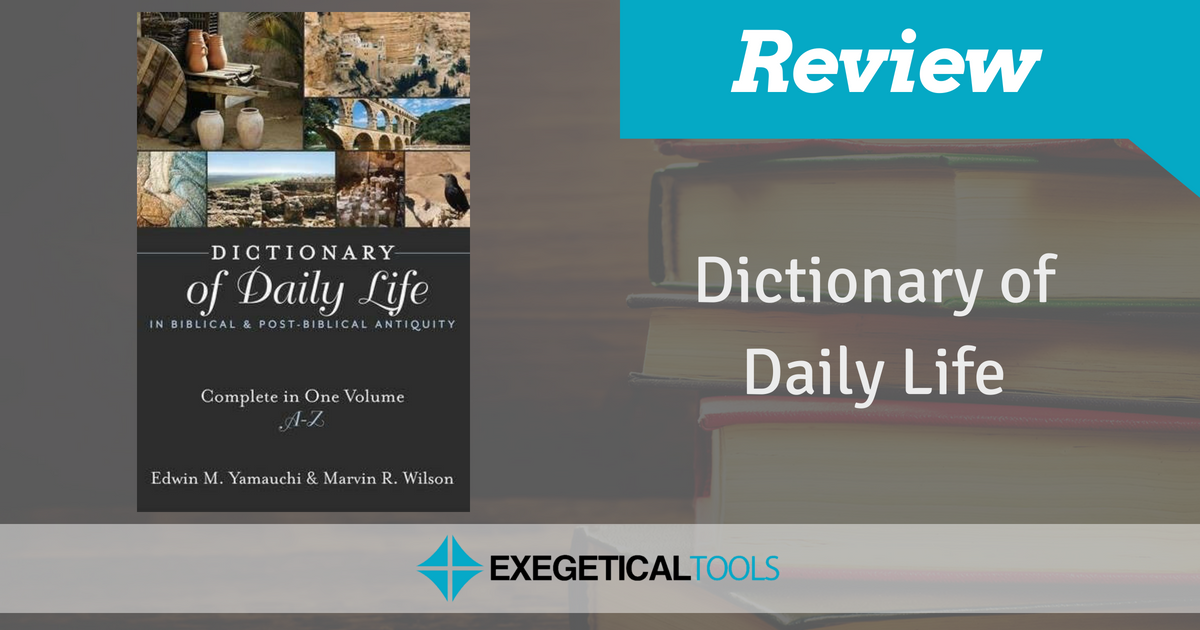 The Dictionary of Daily Life in Biblical and Post-Biblical Antiquity is a new resource that provides detailed background on issues of daily life from approximately 4000 BC to AD 600.
This one volume work is a compilation of four original paperback volumes. It is nicely bound in hardback. The major difference between this Bible dictionary and others is that the topics are based on the Human Relations Area Files, which is "an anthropological grid of human society, which would systematically and comparatively survey different aspects of culture, whether they were highlighted in the Bible or not" (1).
For example, there are articles on abortion, adoption, adultery, banquets, birds, boats and ships, infanticide and exposure, literacy, names, perfumes, prostitution, rape, slavery, taxation, time, and more. All in all, I count 115 topics. Each entry is more of less extensive, covering that topic in the OT, the NT, the Near Eastern World, the Greco-Roman World, the Jewish World, and the Christian World. The final category covers the fathers, in distinction to the NT section, which simply covers the NT.
The majority of the entries are taken up by primary evidence, rather than secondary sources, which makes this volume a valuable tool. Students may search the entries for the data they need to research themselves. At the end of each entry is a large bibliography of secondary sources in various languages. There are no annotations, however, so it would be difficult to determine which sources are significant for research purposes. Perhaps this is one of the weaker aspects of the volume.
I count 33 contributors in the volume, ranging in their area of specialty and affiliations. OT professors are common, but there is also a professor of biological sciences, a head of research archives at the Oriental Institute, and some professors of history. The team seems well put together, and mostly authoritative (there are a few ABDs, which surely contributed quality articles, but whose 'authority' cannot be established, as can that of other contributors such as Craig Keener).
One of the most positive elements of this dictionary is that it enables us to do more "social history." The social sciences have been adopted by many biblical scholars lately, and authors such as Wayne Meeks have done good work in this area. While normal history focuses on the big events, the big nations, and the "winners," social history gives us a sense of the effect of events on the ordinary lives or the small people, the weak, the downtrodden, and the "losers." Social history is important because there are far more losers in history than winners. It is also important for biblical comprehension because we can better imagine what every day life was like for both authors and audiences of the biblical texts.
In the back of the volume are 38 figures in full color, referenced in various essays. Many important archaeological data are presented, which otherwise would remain difficult to explain with words. Although not a significant number of figures, there are enough to improve the quality and usefulness of the volume.
I originally intended to check out this volume for use in a biblical backgrounds class. I think it will not serve that purpose well, unless I were very selective with the pages to be read. Since each essay covers periods and regions from 4000 BC in Mesopotamia to AD 600 in the regions of the fathers, there is too much generality for a course. This generality is a strength for general research in ethics, theology, and history. Perhaps an ethics course could utilize the many ethics-related essays in this volume to improve the biblical foundations of ethical topics (e.g., students could read on abortion, adoption, adultery, alcoholic beverages, bribery, celibacy, childbirth and children, contraception and control of births, death and the afterlife, divorce, magic, marriage, laws, slavery, etc.). In fact, I believe ethics is the main contribution this volume will make to my own research.
Overall, the editors have created a volume that is useful for many different areas of research. As a one-volume reference work, it definitely deserves frequent use and a prominent spot on your biblical backgrounds shelf.
Preview or buy it on Amazon.